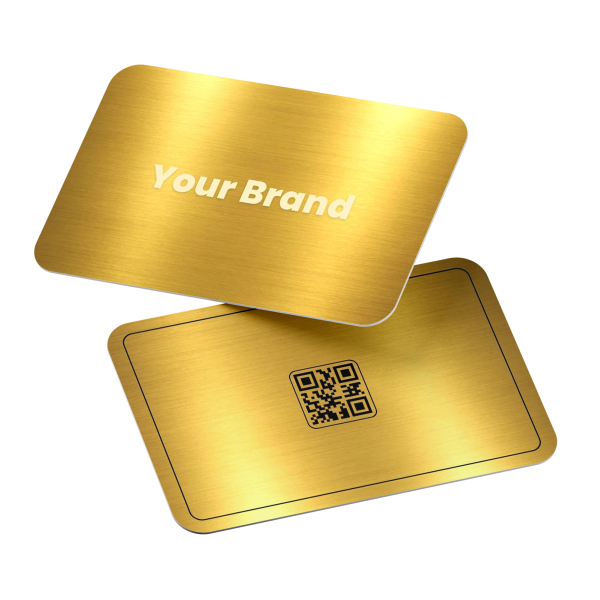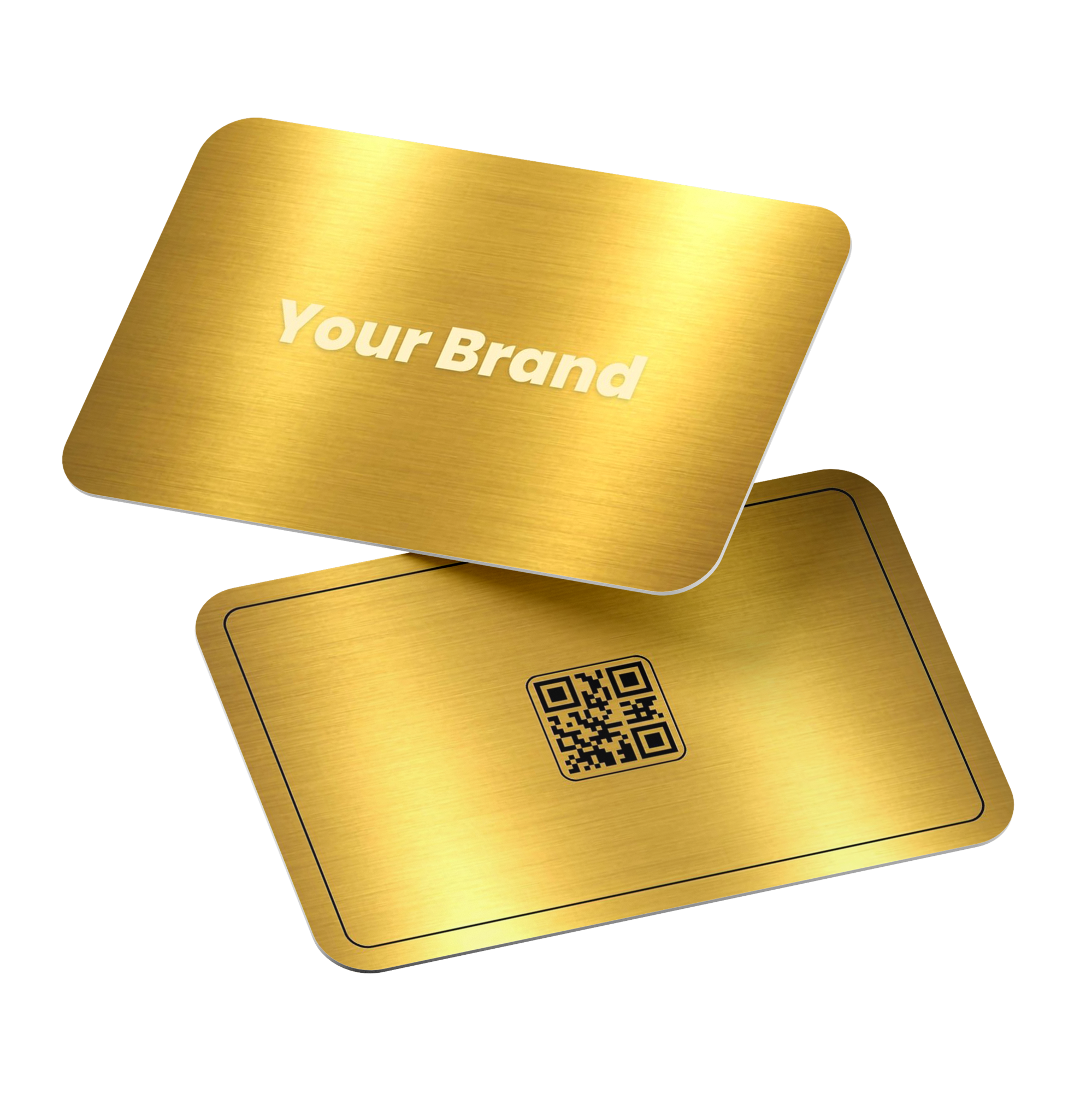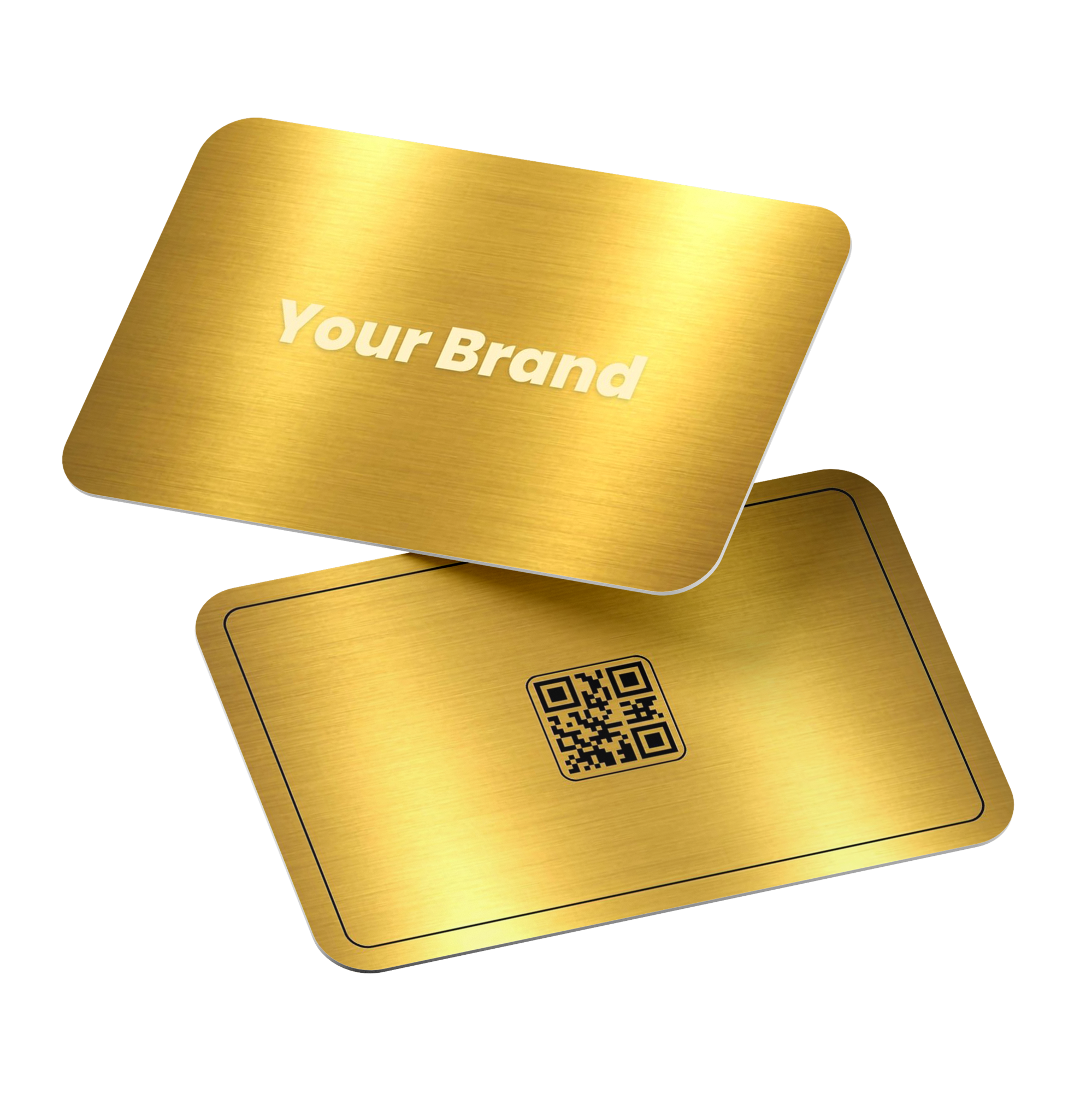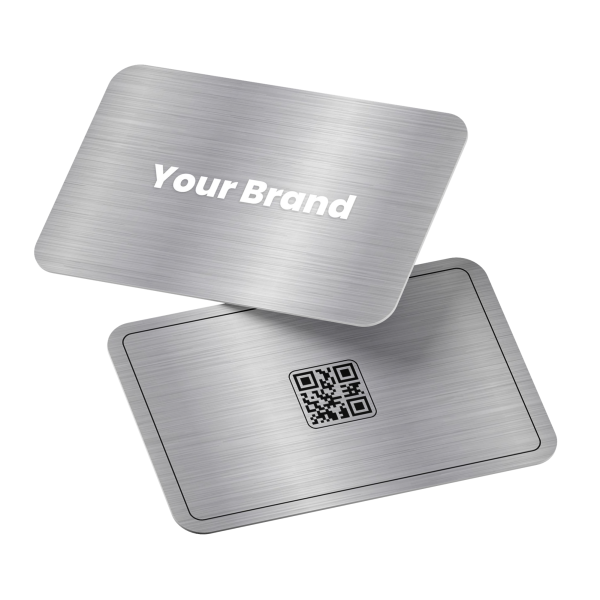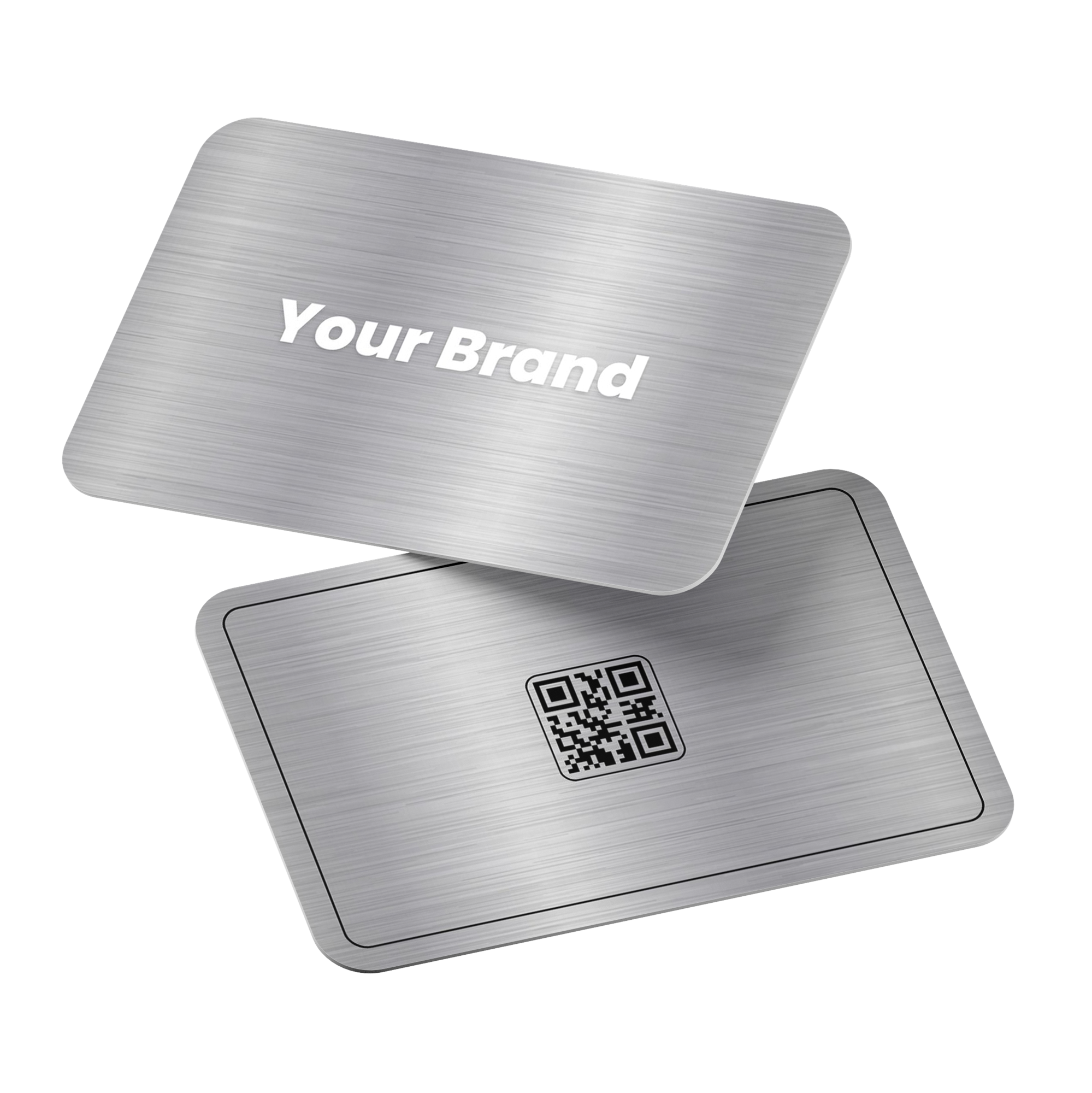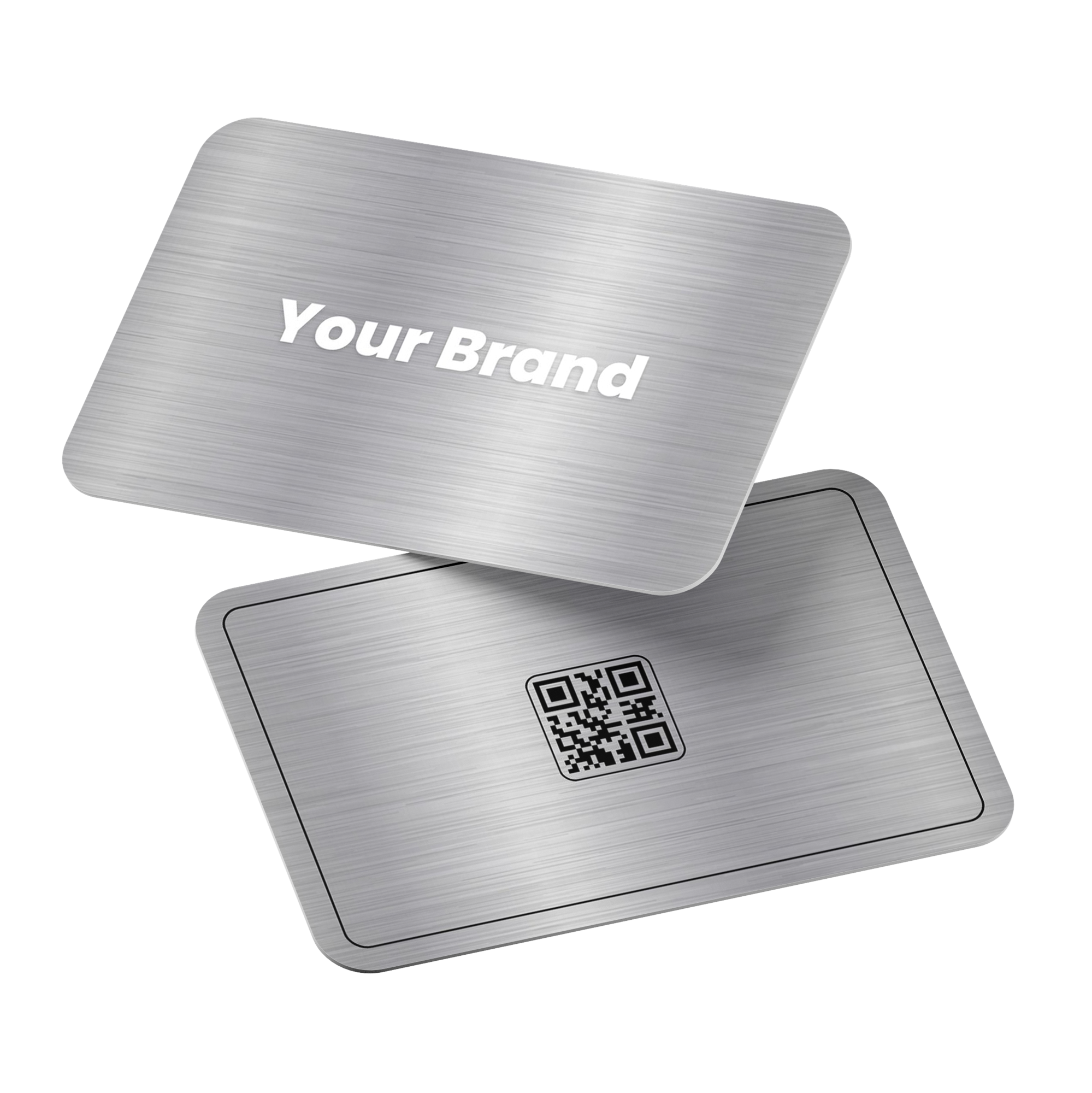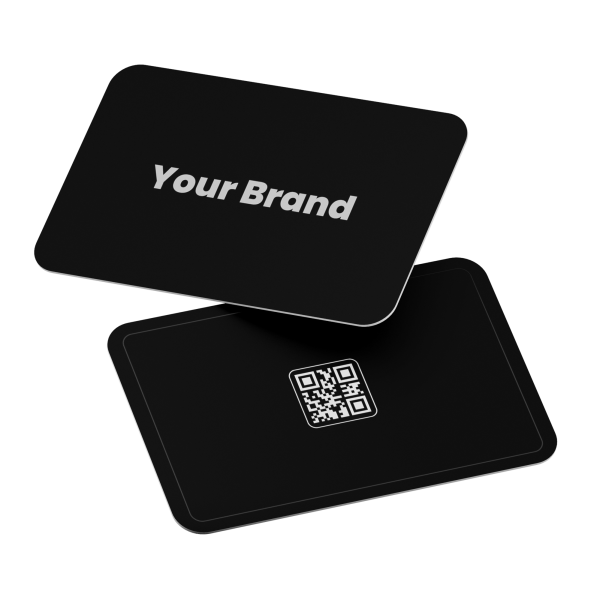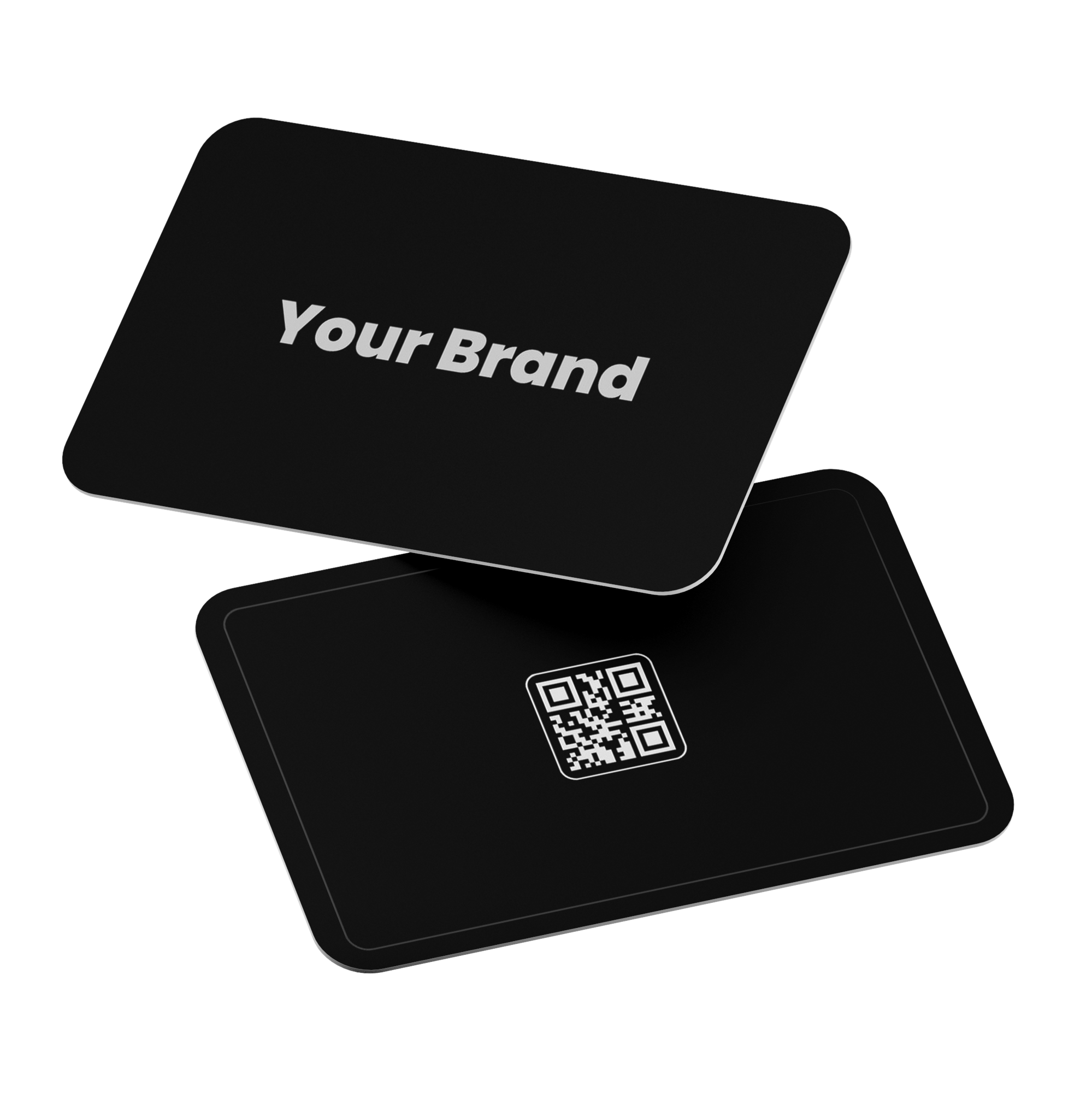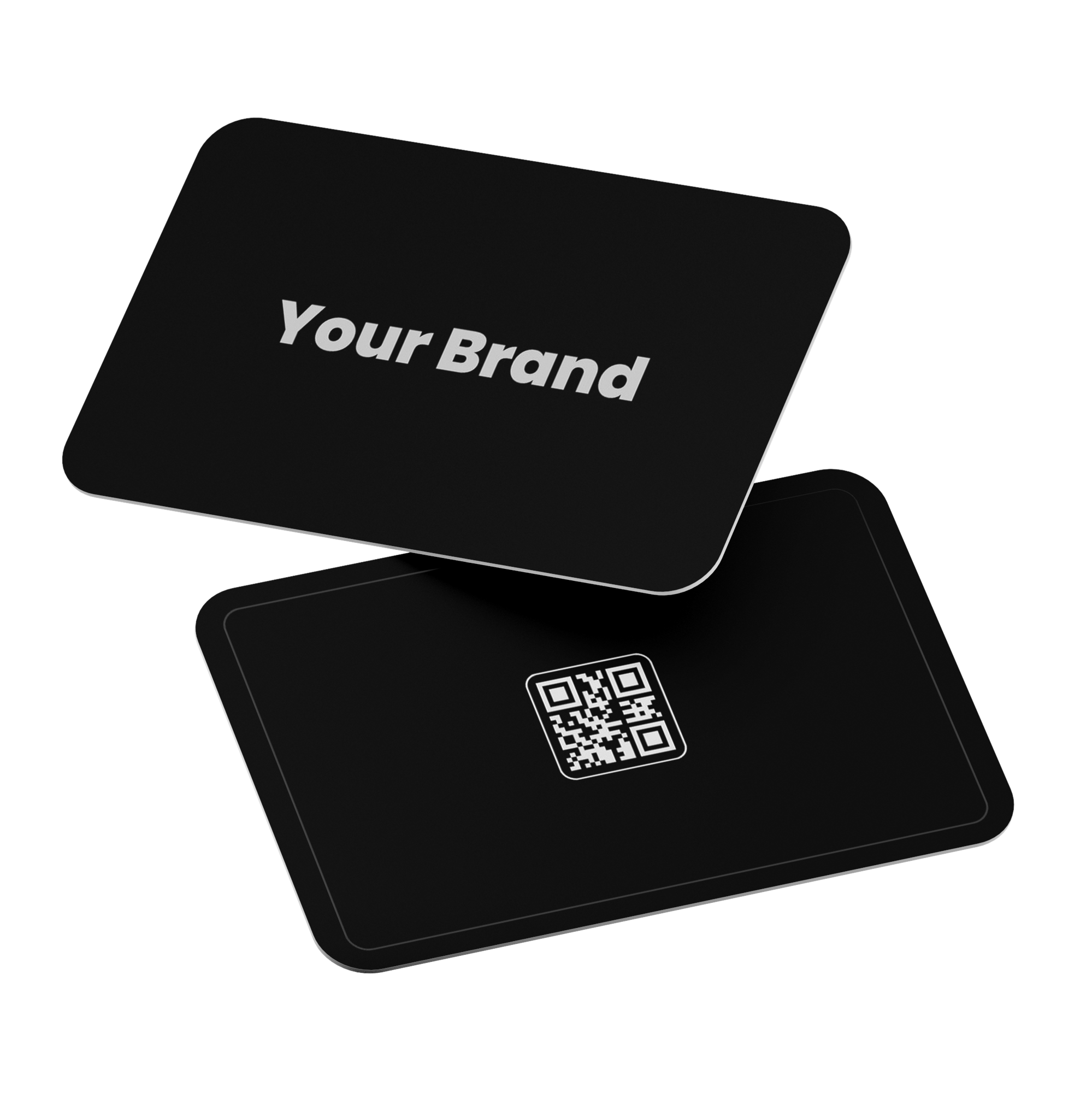 Custom Card Metal Hybrid (horizontal)
Custom Card Metal Hybrid 
NFC Chip: NTAG213
Material: Front card  metal, back PVC
Color variation: Gold, black, silver
Dimension: 85.5mm x 54mm x 0.84mm
Warranty: 6 months. You may add a 1-year warranty as an option.
Default design bio link QR code on the back card
Design or text customization: you can add text on the front card for the engraving finish result
Bio link Plan
For this current promotion, you will get a FREE 12-month Pro Plan, you may refer detailed comparison bio link here

https://tapje.la/pricing
Does the other person need a tapje.la?
No, the other person doesn't need a tapje.la for you to share your information.
How does it works?
Each card comes with a physical Digital Business Card that has a built-in wireless chip that transmits your digital profile to the receiver's phones via Near-Field Communication (NFC). Simply hover or tap the card near the receiver's phone and it will open up your digital profile.
Older model phones without NFC can scan the QR code on the card with their camera to view the profile..
Is there a monthly subscription fee?
There is no subscription fee to use our cards or tags with Basic Bio link Package Plan after your initial purchase. However we do have a Pro and Premium version for larger corporation and require to use powerful and extraordinary features. For more detail about the comparison between Basic, Pro & Premium package plan please click
https://tapje.la/pricing-nfc-business-card-biolink/
Is tapje.la secure?
tapje.la is as secure as any new-age technology and as safe as the information you put on it. It only works within an inch of a compatible device, and can only share, rather than extract information. In addition, there is no financial information stored. All details shared are typically details you will have on any of your traditional business cards.
What can I do with my tapje.la?
The possibilities are virtually endless as this technology has many case studies for its use. However, we find that the most common are contact details, social media handles, websites & product information. Although anything with a digital presence can be transferred.
Does tapje.la have a warranty and extended warranty?
Yes, certain tapje.la has equipped with warranty and extended warranty can be add-on. For detail kindly refer
here 
What is the minimum order online on the website tapje.la?
For orders 5pcs and below, please order direct by clicking this link 
https://tapje.la/order
. If your order exceeds 5pcs, kindly liaise with our Sales Team to click this link 
https://ask.tapje.la
 for an official quotation and design consultation, and proceed with production and setting.
*Please note: We are not providing an official quotation for total orders 5pcs and below!
How to customize design and order?
Click here
to view the video for the simple steps to customize and order online:
What is Premium Delivery and the requirements?
Click here
to learn more about Premium Delivery Policy
How to join Recycle & Get Discount Campaign?
Click here
to learn more about Recycle & Get Discount terms & conditions
Can I customize my profile with my company logo & color's?
Yes, absolutely! 100% freedom you can change your brand color, brand logo, profile picture & bio. You're in total control of how your profile looks.
Does tapje.la only work for iPhone?
No, tapje.la works for both Android & iPhone
Will the card work on my phone
Yes, tapje.la is compatible with all modern smartphones. There are 2 primary ways to share:
Tapping – this feature works explicitly with NFC-enabled devices, click here for the list of NFC-enabled devices.
If your device is not within the list, it might also be that we missed it out from the list. A quick Google search will reveal whether your device has NFC included.
Scanning – Should your device not come with NFC or you prefer sharing via QR codes, every card comes with its own unique profile QR code which opens the same user profile as tapping would.
What phone are compatible?
All Androids and all newer aged iPhones are compatible with our tapje.la feature. For older iphones we recommending using the QR code feature. Please see here for our full compatibility list:
Do you accept bulk order?
Yes, we do provide bulk order options for companies and teams. Reach out to our email at sales@tapje.la to enquire more.
Can I customize my card with company logo?
We do produce customized card options for your company or team. Anything possible with tapje.la . No sweat!
Can I customize my custom back-half (Back URL)?
Example custom back-half:
https://hey.tapje.la/albab
Yes, you can. This custom back-half only generated once a lifetime. It is permanently and cannot be changed.
Can I use our own Domain/Subdomain for Digital Business Cards?
Yes, 
you can use your own domain (
yourwebsite.com/yourname
) or subdomain (
link.yourwebsite.com/yourname
) instead of 
hey.tapje.la/yourname.
There are several things you should understand before configuring your own custom domain for your digital business card:-
You need to notify us about the custom domain setup before purchasing any of our products.
Please refer the tutorial from our manual here on how to setup the custom domain (https://www.help.tapje.la/help-center/articles/1/nfc-business-card-tapjela-bio-link-manual#custom-domain).
Please ensure that you already have a domain and hosting server before configuring your custom domain by changing CNAME or A Record on your server.
It takes between 24 to 48 hours for a change to the CNAME or A Record to fully propagate before your custom domain is fully operational.
We will proceed with your product once your custom domain has been successfully configured by yourself.
Can I make payment by instalment? Is it 0% interest?
Yes, you can make instalment by using ATOME with Zero% interest.
How to make payment monthly instalment via Atome?
SPLIT YOUR PURCHASE WITH ATOME
3 easy payments. 0% interest.
HOW IT WORKS?
How to Make Payment from Stopanik Website:
Go to website STOPANIK.
Click order menu.
Add item to cart and select Atome at checkout.
Make Payment. (Atome automatically splits your bill into 3 equal payments. The first payment will be made at the time of purchase. The following two payments will be made 30 days apart)
*make sure you have atome app installed on your phone to scan the QR code.
How to Make Payment using Atome Mobile App
You can watch the Tutorial Video here
FAQ
1. How is Atome different from bank credit cards?
Instant Approval
Min. Spend to use Atome is RM25
Buy More – Pay Later
2. Am I eligible to use the Atome service?
To use the service, you must:
Be at least 18 years of age
Currently reside in Malaysia
Have a mobile phone number registered under your MyKad with your telco
Own a credit or debit card that will be used to pay for your purchases on Atome
3. If I am late on payment, what happens?
Your account will be frozen and you will be required to pay all outstanding amounts due plus an administrative fee:Days Past Date: 2 Days – 50 MYR charged
Days Past Date: 8 Days – 25 MYR charged
Customer has to make full payment of all existing payments for their account to be reactivated
Should customer have any other concerns, please contact Atome at support@atome.my or head over to Atome website https://atome.my/en-my/help
4. What are the payment methods for repayment?
App repayment: Go to your ATOME APP. Select "Check and Pay" overdue bills. Update your credit or debit card details.
Auto-Deduction: Deposit sufficient funds to the debit/credit card bound to your Atome account for auto deduction.
5. Do customers have to pay any fees for using the Atome service?
Atome is a free service: there are no hidden service fees or interest charges if you pay all your scheduled instalments on time.